Adopting a pet can be one of the most rewarding experiences you will ever embark on. Animals have a unique way of providing unconditional love, companionship, peace, and calm in a world filled with uncertainty.
Adopting a Pet Might Be The Best Decision You'll Ever Make!
If you're thinking about adopting a pet but still on the fence about it, we've got a few points you should consider. When you're making such a big commitment, it's essential to consider every angle! That way, you can be sure it's the best choice for everyone, Fluffy or Fido included!
Best Reasons To Adopt A Pet
Here are our four top reasons in favor of pet adoption:
1.
You Are Saving a Life
When you adopt a pet from a shelter, you are saving them from a life of either being alone, caged up, or on the street. In the United States alone, it is estimated that around 70 million stray animals are living rough. This fact is extremely unsettling, considering the number of animal breeders there are selling animals for profit. Plus, you must consider that most shelters will euthanize an animal because of overcrowding if it isn't adopted within a certain time. So when you adopt (instead of shop), you are saving one of these precious lives that so desperately need a family and a forever home.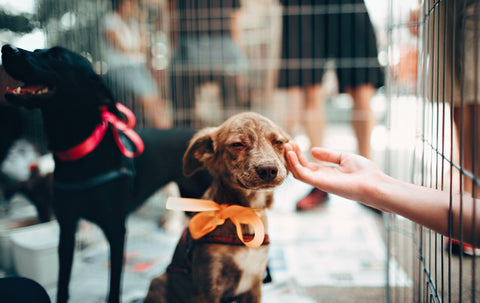 2.
Saving YOUR Life
In addition to saving your pet's life, you are also saving your own, in a sense. Animals have a way of providing comfort and unconditional love that is hard to find elsewhere. Owning and caring for a pet is proven to help with common mental health struggles such as anxiety and depression. These days especially, many of us are isolated in our homes. A happy, furry friend to cuddle up to would make the time alone that much easier!
3.
Giving Back To The Community
Another excellent reason to adopt a pet is that you are helping to fight animal overpopulation. When you give a special pet a fur-ever home, you reduce the numbers of abandoned, unwanted, and homeless pets and ease the burden on local animal shelters. Your adoption fees help cover spay-neuter costs and other veterinary costs. Most cities have several shelters you can check in with to see how adopting a pet helps animals in your community.
4.
Give A Pet A Better Life
When you adopt an animal, you are not only saving their life; you are also giving them a chance to have a loving family and a safe home. These are two things that they might not have had before you came along, and it could be for a variety of reasons.
For example, many elders keep pets for companionship. But what happens when the person passes away or can't take care of the pet anymore because of dementia or illness? Recently, we heard of one lady who suffered from dementia and was trying to feed her pedigreed Maine Coon cat cheerios. When the lady was hospitalized, the cat was brought in hungry, traumatized, and fearful. But once adopted, she bounced back to her old self, cuddling and playing and generally loving life. Had she been left on her own much longer, she would not have survived. Sadly, this is not a unique story. Pets are often surrendered because the owner can't care for them anymore. In other cases, irresponsible owners abandon pets when they move. They are then brought to the shelter, where hopefully they will be adopted into a loving home – and this is where you come in!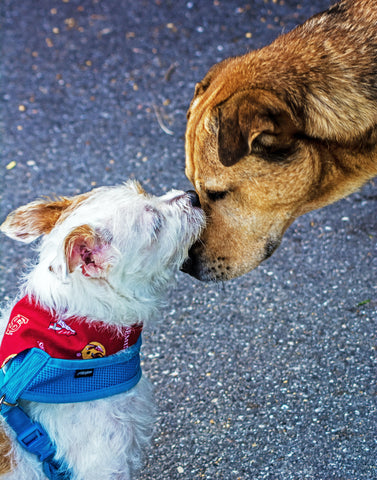 Caring For Your New Fur Baby
As a pet parent, you will undoubtedly want the very best for your pet. This includes making sure they have quality food, clean water, and lots of fun toys and supplies. Here at BDEUS, we've made it our mission to create the most comfortable and eco-friendly pet beds anywhere.
We are also proud to say that a portion of all proceeds is donated to animal shelters worldwide. We are committed to breaking the cycle of pet overpopulation and boosting the quality of life for as many animals as possible. To support this initiative, our pet beds are made from 100 percent recyclable, environmentally-friendly BPA-free materials that you can feel good about. Without even thinking about it, your purchase is helping you do your part to save our planet!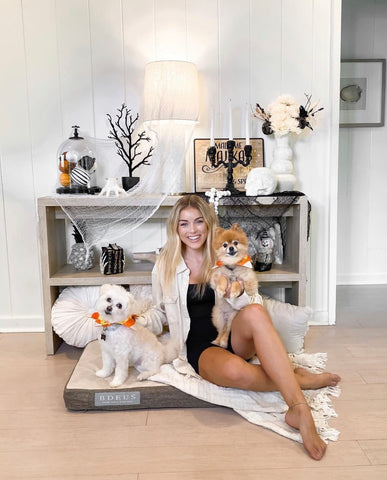 @angeliquecooper
Why a BDEUS Pet Bed is The Best for Your Furry Friend
BDEUS pet beds are created with your fur baby in mind. Since 2017, we have been innovating and promoting earth-friendly, harm-free products that improve our lives—and those of pets everywhere.
Our pet beds have been described as an affordable luxury, and isn't that something everybody wants? It's about quality assurance in every process, from materials, to manufacturing processes, to the durability and attractiveness of the end result. After all, beauty isn't only skin deep!
We spend a lot of time improving and perfecting our line, and that's not just lip service. We are pet owners too, and we know how important it is to feel that the products we purchase are worth what we pay. Our pets are more than just animals; they are beloved members of the family, and it's our job to make sure they have everything they need to live a happy, cuddly, waggy-tailed, pouncing, purring, ball-catching, stick-chasing life.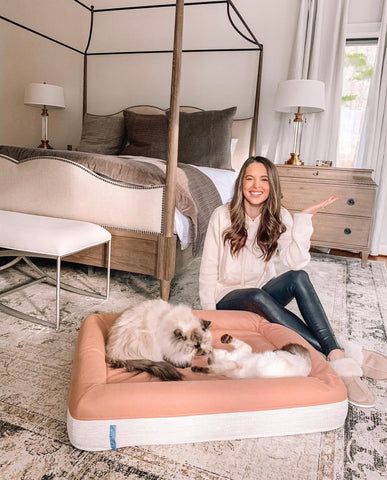 @christina tarabishy
Final Thoughts
Adopting a pet is not a decision to take lightly. You are bringing a new member of your family into your home; it's a responsibility and a lifetime commitment. But we promise you this: adopting a furry friend will be well worth it. When you think about the millions of pets currently stuck in shelters, knowing that you have the power to make a difference in (at least) one of their lives, what are you waiting for? Your new pet is out there waiting for you, ready to fill your heart, home, and soul with unconditional and abiding love.
Shop our collection today, or reach out to learn more about how we help.