When the BDEUS team started our dog bed brand back in 2017, we weren't exactly new to the mattress game. In fact, we were working for one of the biggest mattress brands in the world! Our team has a combined 30+ years of experience in the mattress industry, and our brand has been creating quality mattresses for decades.
While continuing to design and market our high-quality mattresses, we went to work, studying and testing, to find the ideal materials for our pet beds, as well. We wanted our experience as mattress experts to reflect on our line of pet products and create something that was good for your pet's health, eco-friendly, recyclable, and above all comfortable. This is how our dedicated line of pet beds fit for furry companions of all shapes and sizes, came to life.
But if you know anything about perfectionists (and we sure do), you'll know that all the experience in the world didn't seem like enough. We wanted to create the kind of mattress that would be perfect for both humans and pets, so we used out knowledge and skills to work relentlessly until we came up with best design.
The BDEUS mattress is the culmination of all our hard work – and we have to say, we're pretty darn proud of it. When you lie down on a BDEUS mattress, you'll get the benefit of extensive research, top-notch technology, and testing from some of our nearest and dearest (and cuddliest) colleagues. Our mattresses are designed to improve your health and well-being, simply by giving you the best sleep of your life.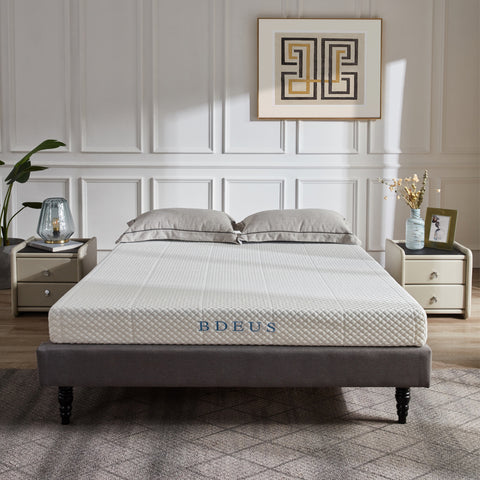 Our Mattresses
At BDEUS, we know that when you sleep well, everything is better. Adequate sleep can improve your health, clear your mind, and boost your mood! But we also know that great sleep requires great sleeping conditions – which is why we set out to create the ideal mattress.
A BDEUS mattress is different from other traditional mattresses from tip to toe. Instead of coils or springs, our mattresses are made from high-density foam, giving a cloud-like feel that still provides total support. High-density foam also prolongs the lifespan of your mattress, helping you get the most from your purchase.
Our 6-inch mattress is made up of 5 inches of high-density foam, an inch of gel-infused memory foam, and a Tencel fabric topper that will keep you cool even on the warmest, muggiest nights. But if that's not enough to have you sleeping like a baby (or a puppy) you can try our 8-inch mattress; it includes an additional 2-inch wave foam for an ultra-cushy night's sleep.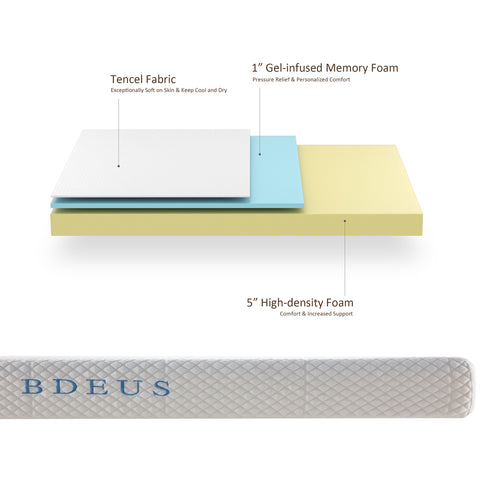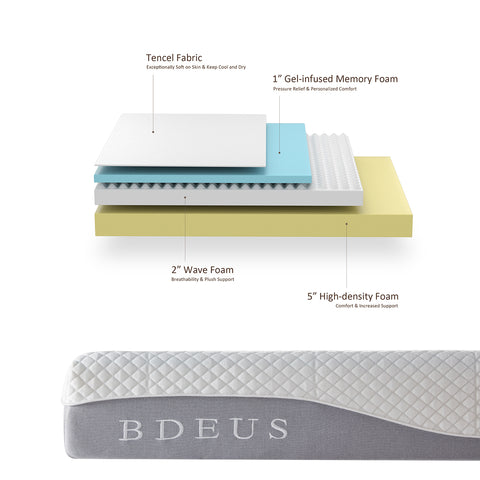 We believe that everyone from newborn puppies to sweet little grannies deserve a great night's sleep. Therefore, each of our mattresses are available in twin, full, queen, and king sizes. No matter what size bed you sleep on, you'll be able to enjoy the benefits of our research and development – and trust us, your body and mind will thank you for the treat!
Features
So, what makes a BDEUS mattress special? It's designed to be comfortable, but that's not much different from all the other mattresses you've ever slept on. Surely, THIS mattress is just like all the others… right?
WRONG.
Our team has dedicated our time and energy into creating a mattress that's engineered to help you have the best sleep of your life. We've studied sleep science, used the pinnacle of manufacturing technology, and systematically created something so great, you'll never want to sleep on anything else.
But what exactly makes our mattresses better than the rest? Here are just a few of our incredible features:
Skin-Friendly
From the moment you lie down on a BDEUS mattress, you can tell that this is a bed designed with your body in mind. We've used cutting-edge materials and technology to deliver the ultimate in comfort, which includes making your skin feel sensational.
For example, there's nothing worse than feeling hot and sweaty when you're trying to sleep. Heat can make it hard to relax – and if you don't relax overnight, you'll be crabby all day. But with BDEUS, you'll never have to worry about overheating in the night; our knitted mattress cover is made from Tencel fabrics.
Tencel is a form of rayon that adapts to your environment. No matter what the temperature is outside (and no matter how sweaty you may be), your Tencel mattress cover will adjust to keep you cool and dry all night long. And best of all, Tencel is skin-friendly and ultra-soft!
And while temperature control is essential for achieving a great night's sleep, but it's only part of the equation. It's also important to protect your skin from the nasty critters that might lurk in your household. Every BDEUS mattress is built with anti-mite technology, preventing you and your mattress from suffering itchy, uncomfortable, and damaging bites.
Motion Isolation
People who share a bed with someone else: raise your hand if the other person's movements have ever woken you up? I know we can't see it here on the internet, but the odds are high that EVERYONE'S hand is in the air. The fact is that bed sharing isn't always what it's cracked up to be – particularly not if you're a light sleeper.
But at BDEUS, we found a solution for your partner's tossing and turning (or at least for you feeling them toss and turn). We've arranged the foam layers in our mattress with a very specific goal in mind: to absorb the motion coming from the other side of the bed.
Our high-density foam will absorb your partners tossing and turning and muffle that motion, while our gel-infused memory foam will cradle and form to your sleeping position. Working together, these two foam elements can nearly eliminate the feeling of movement in the bed – and when you add that beautiful Tencel fabric on top, there's no way you won't be sleeping like a baby!
Pressure Relief
Sleep ergonomics are incredibly important to our everyday health and well-being. Our bodies need proper rest to recuperate and prepare for our everyday tasks, and a bad mattress can leave your body feeling like an absolute mess.
Is your mattress too soft? You might find yourself sinking into it each night, putting your spine in an uncomfortable position that can lead to back and joint pain. Is your mattress too hard? An overly firm surface can push up against the body, putting excess pressure on the spine through the night. But if you have a mattress that's just right, you'll notice the difference almost immediately. We have studied sleep science, tinkered with the top sleep technology, and developed a mattress that's the apex of sleep perfection.
BDEUS mattresses reach that happy medium of supportive, yet soft. Each mattress features a layer of gel-infused memory foam, which cradles your body evenly for the optimal comfort level. Under that layer lies our high-density foam base, which conforms to your body but doesn't let you sink into it. Whether you like to sleep on your side, your stomach, or your back, the BDEUS mattress will keep you supported and comfortable throughout the night.
Why Buy from BDEUS?
So, you already know what makes our mattresses so great… but why else should you buy from BDEUS? Our company is dedicated to creating products that make people's lives better. When you buy a mattress from BDEUS, you're getting something that's sure to improve your sleep, better your mood, and even make you healthier overall.
But that's not the only reason to order from us. We also want to make the mattress-buying experience easier. Order from BDEUS and we'll send your mattress straight to your door, fully compressed in a convenient, recyclable, and easy-to-carry box.
There's no pickup, no struggle to carry the mattress, and no need to get a new frame (our mattresses fit box springs, slatted bases, hospital beds, and everything in between). Just you're your mattress 72 hours to fully expand and you'll be ready to truly enjoy your sleep!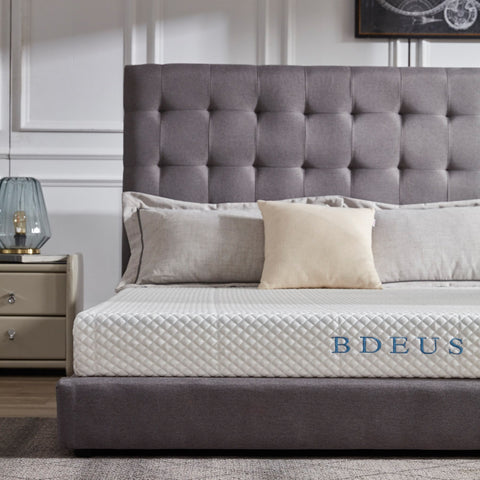 Order Your Mattress Today
The BDEUS team has long been dedicated to improving the lives of our customers. And thanks to our extensive research and development, we've managed to create a product that makes your life better in every possible way:
Our scientifically engineered mattress improves your sleep and your overall well-being
Our fast and convenient shipping makes setting up your bed a breeze
Our low prices make great sleep (and better health) attainable for everyone
Our 100% satisfaction rate guarantees that you'll get a great product
Our team cares about sleep – we've spent a combined three decades learning about it. And with the BDEUS mattress it's clear that we've done our homework. Lucky for you, now you get to reap all the benefits! You can order a BDEUS mattress today and have it shipped quickly (and for free if you're in the United States).
Whether you're looking for a great bed for your doggo or a sleep oasis for yourself, BDEUS can give you exactly what you need. Contact us today with any questions or comments; our customer service team will be more than happy to help you get the best mattress you've ever had.