Valentine's Day is right around the corner, and that means many people are looking for a special and unique way to show their loved ones how much they care. But if you're fresh out of ideas, we've got one for you: why not give your sweetheart the best sleep of their life?
Trust us, this is no small gift: studies estimate that 70% of Americans get insufficient sleep at least one night a month. Part of this is due to the fact that many Americans are sleeping on poorly made or old mattresses. It's amazing the difference a high-quality mattress can make on your sleep and your overall health.
And now you're in luck — because there's no better way to get a good night's sleep than with a BDEUS mattress.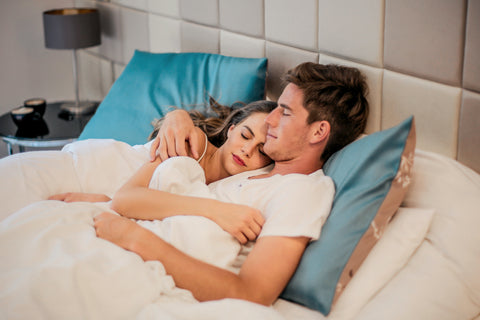 What Makes BDEUS Special
The BDEUS team has over 30 years of experience in the mattress industry, so you might say that we are certified experts. We've dedicated ourselves to creating the ideal mattress: an eco-friendly, recyclable, comfortable bed that feels like sleeping on a cloud. We've combined all the latest features from the mattress industry to give you the ultimate sleep experience, with perks like:
Gel-Infused Memory Foam
Memory foam has been a popular choice for people looking for the ultimate comfort from their mattress. After all, comfort is key; when you sleep well you're more likely to be successful, healthy, and happy during your waking hours.
Our high density memory foam provides your body with support in any sleeping position. With this mattress, you can enjoy a comfortable night's sleep and a rested body in the morning. No more sinking into an overly soft mattress! No more pressure on your spine from a firm mattress! And most importantly, no aches and pains in your back and joints when you wake up.
Motion Isolation Design
Hey, co-sleepers out there: have you ever found yourself wishing you could have the bed to yourself again? Your partner's tossing and turning in the night can mean real trouble for your own sleep cycle — if you don't have a BDEUS mattress, that is.
Our mattresses are scientifically designed to absorb as much motion as possible. The memory foam layers will muffle the movement from your partner's side, while craving their bodies so they don't feel the need to move as much! The result? Two well-rested people who feel like they had their bed all to themselves.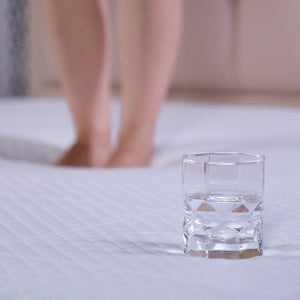 Breathable Fabrics
If there's one thing on which we can all agree, it's that sleeping is too hard when it's too hot. Too often, mattresses are designed with thick materials that warm up your body, making it impossible to fully get some shut-eye. But at BDEUS, We looked for skin-friendly materials that keep you cool.
Our knitted mattress cover is made from Tencel, a form of rayon that adapts to the temperature around it. In the midst of summer, this mattress cover will keep you cool — and in the midst of winter, it will keep you from overheating even under the coziest blanket!
The Ideal Mattress for Everyone
A BEDUS mattress is the ideal gift for anyone who's been looking to up their sleeping game — and we don't just mean the love of your life. We provide beautiful, comfortable, and stylish mattresses for everyone in your household, from you and your significant other down to your little fur babies!
BDEUS Mattresses
The humans in your life will fall in love with our 6-in or 8-in memory foam mattresses. From the cooling Tencel cover to the luxurious gel-infused memory foam, you'll be head over heels from the very first nap. And with mattresses available in twin, full, queen, or king size, there's a BDEUS mattress to suit everyone!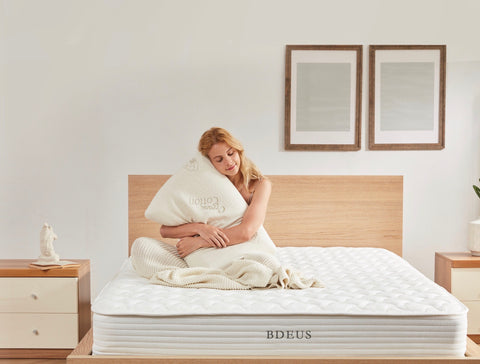 BDEUS Pet Beds
Comfort, spine support, and cooling fabrics aren't just for humans. Your dogs and cats can benefit from a great night's sleep, too! This is why BDEUS has created a line of pet-tested, pet parent-approved beds for the doggos and kitties in your life. Our designs are machine-washable, totally stylish, and made to give your pet the best sleep of his life.
This Valentine's day, give your loved ones the gift of sleep. Whether you get a queen-size mattress for the queen of your heart or a teeny dog bed for your cute little lapdog, you'll benefit from the high quality, fast shipping, and incredible prices BDEUS has to offer. Don't wait; get your Valentine something truly special today.